Having a hiking backpack for dogs can transform your hike into an amazing experience. Before I started using a dog backpack, I was never really that happy about taking my dog with me. I always needed to pay close attention to her, because one moment she would be off sniffing a tree for a long time, or she'd see another dog and run after him.

In my weekends I watch many of Cesar Millan's shows on TV and he is always talking about backpacks for dogs to give them a job. The TV show got me excited to try out a backpack. So I started looking for a good pack for my dog.


My 5 Tips To Find the Right Hiking Backpack for Dogs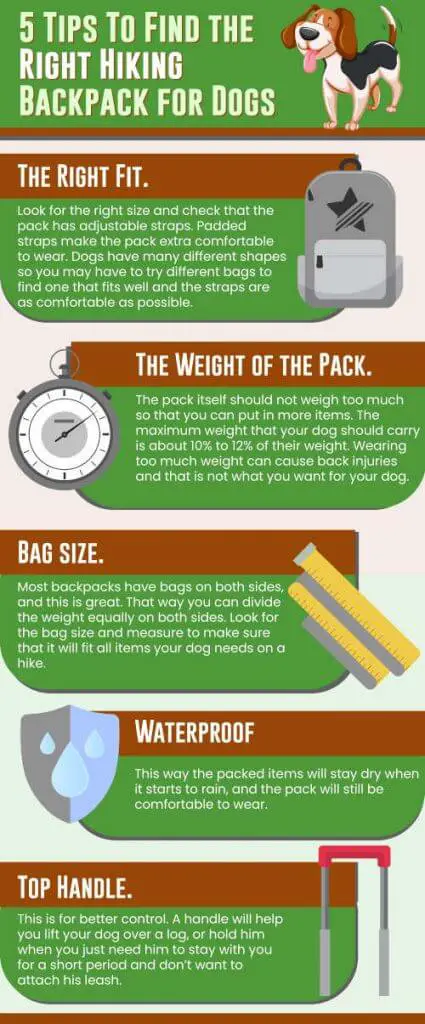 The Right Fit. Look for the right size and check that the pack has adjustable straps. Padded straps make the pack extra comfortable to wear. Dogs have many different shapes so you may have to try different bags to find one that fits well and the straps are as comfortable as possible. Especially for long hikes, comfort is a must. You can use the table at the bottom of this post to find the right size.
The Weight of the Pack. The pack itself should not weigh too much so that you can put in more items. The maximum weight that your dog should carry is about 10% to 12% of their weight. Wearing too much weight can cause back injuries and that is not what you want for your dog.
Bag size. Most backpacks have bags on both sides, and this is great. That way you can divide the weight equally on both sides. Look for the bag size and measure to make sure that it will fit all items your dog needs on a hike.
Waterproof. This way the packed items will stay dry when it starts to rain, and the pack will still be comfortable to wear.
Top Handle. This is for better control. A handle will help you lift your dog over a log, or hold him when you just need him to stay with you for a short period and don't want to attach his leash.
I am just a beginner and so is my dog. The first thing I want to know when I try out something new is whether this new thing is really for me. I don't want to spend too much money on something I don't like.

Outward Hound's daypak is one of the cheapest packs out there. It had some good reviews, so that is the one I bought. It is all up to you how much you want to spend. The price range is from about $15 up to $100.

Outward Hound's daypak was for me the perfect pack to start with. It's a lightweight pack with a nice breathable cooling mesh so my pal doesn't get too warm. It also helps with visibility because of the bright colors and reflective accents on the side. And the adjustable straps make it a good fit around the chest.

I have a small dog so I don't care very much about the size of the bags. She can't carry much weight anyway.

I did have to keep the treats ready when I started out. She was a little hesitant to wear it. But a couple of treats later she was fine with it.

Sadly it is not a waterproof pack, but I have a tip for you. I went to the store to get some waterproofing solution and sprayed the pack. Every time it rains I can see the raindrops rolling off the pack.


What Kind of Pack to Look for

It all depends very much on the kind of hike you want to make, as well as the character of your dog.

The kind of pack matters less when you have a relaxed and easy going dog that is not easily stressed. When you have a dog that likes to wander off on his own, have some fun playtime in the bushes, or run along the trees, then you might want to look for a backpack that is more durable and made for rough terrain.

Going for a hike that takes you away from home for a couple of days? If your dog's size is bigger than mine, he might be able to carry much more of his own equipment. In this case, you can look for a pack with large pockets to fit his bowl, treats, food, water bottles and other equipment he might need during the trip.


What is The Right Fit?

Most packs are available in three or four different sizes. Measure the girth of your pal in order to find out which size you need. Once you know what size you'll need, the next step is to find the pack that suits the kinds of hikes you want to take.

For example, I bought the cheaper daypak from Outward Hound, because my dog and I are beginners. Slowly we will start going on longer hikes and this pack might not be the right choice anymore. When you go for longer hikes with your furry friend you will want a pack that has more comfort. Look for a pack with padded mesh straps and bags that are designed to fit along the side of your dog's body.

When you want to take hikes of two days or more you might also like to have bigger bags. Then your pup can carry all the things he needs on his own.

When you walk in the early morning or late evening, when it is dark, you might want your dog to carry a safety light. Look for an extra loop where you can attach a light.


The weight of the pack

The lighter the pack, the more items you can stuff in the bags. Make sure the bags stay comfortable for your dog. The total weight should not be more than 10% to 12% of the total weight of your dog so that they don't strain their muscles.

A whole day of walking is a lot for your furry friend too. Keep in mind not to overdo it with the items you put in his pack.

For short walks of no more than an hour, you might extend the weight up to a maximum 25% of the total body weight. This will build extra stamina and help you prepare for long hikes.


Bags

All backpacks have an equally divided number of bags on both sides. This is for balance and comfort. When you divide the weight equally on both sides the pack will hang nicely on his back.

When the weight is not divided equally the pack will start to hang to one side. It is very uncomfortable to walk all day like this, and can even cause back injuries.


Waterproof

It's nice to be able to keep items dry in your pup's bags. Chances are you won't find many water-resistant backpacks. In my search for the right pack, I did come across a couple of waterproof packs. Even if the one you choose isn't waterproof, you can spray the pack with a waterproofing solution.

Some manufacturers offer waterproof covers for their product line. Ruffwear, for instance, has a saddlebag cover available for their Approach, Palisades and Commuter packs. Sadly there is none for the Singletrak. The raincoat even has a nice design to allow access to the top handle.


Top Handle

All the packs I have seen come with a top handle. Some of them stronger and more integrated into the pack than others.

A good top handle allows you to easily grab your dog when an aggressive dog comes by or when you come to dangerous terrain where he cannot wander loose. It gives you control over your dog and allows you to help him safely through rough terrain, bike paths or crowded areas.


Extra Gear to Consider With Your Backpack

Safety Lights

As winter approaches, the days get shorter. You still want to take your dog for a walk when you come home from work, but it's dark by then, and it is difficult for others to see your pooch.

You can look for a pack that has a bright color or reflecting strips on the side of the bags. Even better is to have both, to ensure that your dog will be visible in low light.

If your pack has a loop or a D-ring you don't use for a leash, you can buy a safety light and attach it. I've also had the idea to attach a led strip to the pack, but that's something for another post.


Collapsible Drink Bowl and Bottles

When you take a break, have your dog sit down with you. Take off his backpack and let him rest too. While you're at it, give him something to drink.

There are many different kinds of foldable water bottles available in the market. Make sure you get one that will fit well in one of your dog's bags.

Collapsible bottles are easier to fit into a backpack because you can squish them a little. And when you pour out some water for your pal, the bottle gets just a little more compact.

Some people teach their dogs to drink from their hand as they pour some water in it. A lot of water can get wasted this way. I advise you to get your dog a foldable water bowl. They are not that expensive and it's so much easier for your dog to drink from a bowl.

Make sure that both the bowl and the bottle are BPA-free. BPA (Bisphenol A) is a chemical substance used in many kinds of plastic. It has an effect on hormone systems and can cause infertility.


Cooling Collar

Dogs do not sweat like humans; instead, they pant. By panting they release excessive body heat. In warm temperatures and when exercising, this might not be enough to keep their bodies cool.

The neck and chest of your dog are the parts of his body that get hot first. A cooling collar can help your dog get through those hot days more comfortably.

When cool drinking water and shade are not enough, a cooling collar can help prevent heat exhaustion or heat stroke. Some cooling collars on the market need ice to do its job. This type of collar needs to be placed in the freezer first before you can use it. When worn, the ice will start to melt and the collar will cool your dog. This type of collar is good when you walk for a couple of hours.

When you go for a longer hike, especially if you're staying out overnight, you might not have a freezer at hand to freeze the ice packs during the night. There is another type of cooling collar that you soak in cold water. During the hike, the water will start to evaporate and take the excess body heat of your dog with it.


How to use a cooling collar
Simply soak the collar in a bucket of cold water. Let it absorb the cool water for a couple of minutes. Remove the collar from the water once it is completely soaked. Then squeeze all excess water out of the collar. If you want you can pat it dry with a towel.

Then place the collar on the neck of your dog and adjust the straps for a comfortable fit.


Tips for Starting to Hike with your Dog

Before You Start Hiking. Consult your vet and make sure his health is ok. Polish up his obedience training. Start building up his stamina and the weight in his bags. Pick the right trails, start small.
The Weight of Your Pup's Pack. Don't just guess at the appropriate weight for your dog's pack. Weigh both your dog and the pack, along with everything you want to carry, so the backpack will never be too heavy.
Other Gear to Consider. Don't let an unexpected injury catch you by surprise. Bring a first aid kit with items for both you and your dog.
Plan Your Trip. When the trail is more challenging than what you expected, the hike can take more energy. Make sure you plan appropriately and take enough food and water for your pal.
Be Aware of Hazards on Your Trail. Think about your safety and the safety of your dog. Think about heat and cold. When you take a break, give your dog some time off too. Take off his pack so that he can cool down, and make sure he drinks plenty. Give him a snack. Take precautions against creatures, plants, and microorganisms you might come against. We don't want him to get sick when enjoying the outdoors.
Padding in the Chest Area. A well-designed pack places the weight predominantly over the shoulders. This is the area that can support the most weight. However, this position places pressure on the chest. Especially if you're taking longer hikes or carrying a heavier load, make sure the pack you buy has good padding in the chest.
Loops and Rings. Look for a pack that has extra loops or rings on the front, on the side, or on the back. This is convenient for hanging items like a safety light.

Choose the right size

The size is often measured by weight and by girth. Measure the widest part of the chest and put him on a scale to get all the info you need. Every manufacturer's sizes are a bit different, and the sizes can even change with different styles of backpack. Make sure you check the manufacturer's website for the right size. You can use this table to get an idea of what size you might need, but this is by no means a table you can use for all packs.
XXS

Girth: 8 to 10 inch
Weight: up to 5lbs (2.25 kg)
Common Breeds: Toy Fox Terrier, Chihuahua, and Yorkshire Terrier

XS

Girth: 9 to 15 inch
Weight: 5lbs to 10lbs (2.25kg to 4.5kg)
Common Breeds: Pomeranian, Maltese, and Miniature Dachshund

S

Girth: 13 to 23 inch
Weight: 10lbs to 25lbs (4.5kg to 11.25kg)
Common Breeds: Cavelier King Charles Spaniel, and Scottish Terrier

M

Girth: 18 to 29 inch
Weight: 21lbs to 55lbs (9.5kg to 24.75kg)
Common Breeds: English Bulldog, Border Collie, and Beagle

L

Girth: 22 to 39 inch
Weight: 50lbs to 75lbs (22.5kg to 33.75kg)
Common Breeds: Boxer, Golden Retriever, and Labrador

XL

Girth: 28 to 48 inch
Weight: 75lbs and more (33.75kg)
Common Breeds: Saint Bernard, Great Dane, and Rottweiler

Conclusion

A hiking backpack for your four-legged hiking companion is a great way to give him a job when he is on a trail with you. Take all the precautions necessary before you go. Getting the right backpack for your dog is not all that difficult. Take some time to think about the kind of trails you want to do: short trails, long trails, heavy terrain, and day, night or both. Then measure the weight and girth of your dog. With this information and the directions from this post, you can read "the best dog backpacks reviewed" to help you further.