Having a  backpack for your large dog can be both a mental and a physical workout for him during normal everyday activities or when running around on trails. It can be a challenge to find a backpack for your large dog. Some dog backpack fabricants don't account for dogs with a big girth. I did some digging around and I might be able to help you.


How to find a Big Dog Backpack?
So, How to find a big dog backpack? Look on the internet for backpacks with a size large or extra large and a girth of max 42inches or more. Amazon has lots of them. In your local pet store, you often won't find them. I found there are many backpacks available on the internet. Read on to find out what my choice would be.

Not all of them suitable for big dogs. Like for instance, I have the Outward Hound Daypak. It's a pack that comes in three sizes. The largest size has a maximum girth of 32 inches and that probably won't fit on an English Mastiff.

What I have found is that the Ruffwear Approach pack and the Kurgo Baxter are probably the best and largest available backpacks for big dogs. Have a look around in my dog backpack review post. There are more backpacks reviews that could fit a large dog.

The Kurgo Big Baxter
The reason I choose the Kurgo Big Baxter? It is because it has 8 adjustable points for optimal fitting and two large removable bags providing enough room for all the items you might need on your hike. it's got a large padded handle on the top with reflective trim and one very the best feature is the rear mounted hook.

The rear-mounted hook can be used as a bottle opener. I haven't seen it on any other backpack. Multiple reflective trim strips provide better visibility from all angles so walking your dog in the dark is not going to be a problem anymore. It has padded back support and is designed for ergonomic fitting, Making it one of the most comfortable backpacks for any dog.

This pack is available in only two sizes but you don't have to worry the Big Baxter is made for dogs of about 110 pounds, which is about 50 kilos, or more.

Kurgo does not provide us with the max girth sizes of his backpacks so I can't help you there but the thing is this backpack is highly adjustable so you will be probably will be able to make it fit your dog.

Ruffwear Approach Pack
The Ruffwear Approach Pack is my second choice actually, I should say it's my first because it can hold 4 to 6 beer cans. which is my second hobby next to hiking with my dog. This is a good indication of how much are items its large bags can carry.

You should start with an empty backpack or at least with low weight in it. If your dog is not familiar to carrying something on his back. But it is nice to know that when you want to scale up, the bags will not hold you back. The radial cut saddlebags use a passive compression technique to create a perfect form fitting for better load balancing and comfortable carrying.

The backpack has external Gear Loops for attaching extra equipment like a safety light. It's got a top handle for easy lifting and control. A non-slip girth strap for a comfortable fitting and good load dispersion. It also has a five-point adjustable fitting so you should be able to make it fit your large dog. And the reflective trims on both sides should keep your dog safe during the low light hours.

The extra large size of this backpack is for a dog with a maximum girth size of 42-inch. It should fit your big dog perfectly. the maximum capacity of both bags combined is 24 liters.

Some dogs are too large for the biggest backpacks. What I found is some people make their own backpack for their dog. I will create a how-to later for this so be sure to follow this blog in the future.


What Are The 10 Largest Dog Breeds?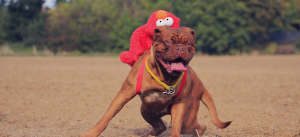 Big dogs are very strong animals. The largest breed like Mastiff, Great Danes, and St Bernard are so strong they can attack you as if you are a wild animal. No, I don't think that it is in a dog's nature to attack a human. Dogs are by nature very friendly animals who, I believe, always want to please us. Dogs that do attack humans are most of the time traumatized dogs and need special care and attention.


Once you give them enough care, give them food and be a companion for them, they will be a companion for you. Following is a top 10 of the largest dogs around the world:

The English Mastiff has a girth of 27 up to 32 inches and can have a weight of 60 kilos up to 110 kilos or more. The English Mastiff is the largest dog breed in the world.
The Great Dane has a great reputation for its Heights. This breed can be as tall as 3 feet or more with a weight between 50 and 90 kilos and a height between 30 and 36 inches.
The St. Bernard is a dog with a height between 25 and 35 inches and a weight of 64 to 91 kg. They have an average height but the weight makes him truly gigantic. This breed has very strong muscles in his body and can travel through deep snow for 4 miles if they need. They were originally bred for rescue operations in the Alps.
The Neopolitan Mastiff was bred as a Roman war dog. He has a height 26 inches up to 30 inches and I have a weight of 54 up to 90 kilograms.
The Irish Wolfhound has a height between 23 and 35 inches and a weight of 53 up to 84 kg. It's a breed that is native to Ireland and originally served in war and hunting.
The Leonberger has a height of 26 up to 32 inches and a weight of 45 to 77 kg. It is named after a city in Germany.
The Newfoundland has a height of 27 to 30 inches and a weight of 62 to 70 kg. They are very social and intelligent dogs very sensitive to their family and can be trained easily.
Anatolian Shepherd dog has a height of 26 up to 31 inches and a weight of 41 to 68 kg. He is a large and powerful dog breeds native to Turkey. A breed fully developed to protect livestock, the Anatolian Shepherd dog is known for its agility and endurance.
The Great Pyrenees has a height of 30 to 39 inches and a weight of 52 to 59 kg. They have a great reputation for its nature and her beauty but are bred to protect livestock. this is a very gentle and loyal breed.
The French Mastiff has a height of 20 to 23 inches and a weight of 54 up to 62 kg. The breed can be distinguished better by the massive head and muscular body. They have a very thick skin and can be very effective as watchdogs or rescue dogs. When trained well they can also be extremely loyal, protective and devoted to their family.

How to Introduce a Backpack to a Big Dog?
Getting your dog to carry a backpack is not as easy as throwing one at him and expect him to know what to do with it. The best way to introduce a backpack to a big dog is by doing it slowly.

I always like to train my dog with a clicker. So how can you clicker train your dog to get comfortable with a backpack?

Have your clicker and some treats ready, take out the pack and hold it in your hands. As soon as your dog looks at it click and reward him for it with a treat. Repeat this step until your dog gets some natural interest in the backpack.

Soon your dog walks to the bags. When he does you click n treat. When he finds his way to the opening, that needs to go around his neck, again you click and treat.

If your dog starts to sniff the area click and treat. don't do this exercise for too long just a couple of minutes each day until it's good getting easier.

Treat him with every step further he takes.

after a couple of days, see if you can get him to put his head through the loop that needs to go around his neck. When you succeed you should treat him well and have him carry it for 5 minutes. Treat him often while doing so. Treating him will give him the idea he is doing something good and lets him get comfortable with wearing something on his back.

Repeat this process for a couple of days until you can easily get the backpack around his head.

After a week or maybe two when your dog is comfortable wearing the backpack and not struggling anymore when you try to get it on him, you can start adding some weight in the pooches. I always use flour for training which course you can easily divide it and measure it.