"Ouch, hey, get down! You are hurting me with your nails!" I think this is an obvious phrase that we say to our dogs several times a day. Especially if you are like me, and you have a goofy Golden Retriever who likes to give free hugs and climb on your back 24/7. Then you find that the solution is to trim your dog's nails, however, if you are like me and you like to do everything for your dog yourself, you are now facing another problem. How should I trim them? From where should I start cutting? What are the best nail clippers available? How to use a dog nail clipper?
To trim your dogs using a nail clipper, simply grab your dog's paw and hold the nail clipper at a slight angle. Then, trim every nail until you reach the quick. After that, use an emery board to smooth your dog's nails.
In this article, I will be happy to demonstrate to you a full guide on how to use a dog nail clipper like a pro!
What Do I Need to Know Before Clipping My Dogs Nails
I get it, I get it. You have bought a nail clipper, and you are ready to trim your dog's nails. However, as a trainer for my dog, I have to stop you from taking this dangerous step. Why?

First, you have to know that 95% of the dogs have a sensitive paw that they don't like getting grabbed, and if you didn't test them before starting the trimming process, I think you will have a hard time stopping the blood covering your finger.

Yes, dogs do love us, and they are beautiful creatures! However, dealing with an anxious dog is really not adorable or cute by all means! So, let's look at the steps that you should take before starting the trimming process.
How to Test My Dog's Temperament Towards Nail Clipping?
The outcome of this step will be either that your dog is OK with you to grab his paw and start trimming, or he is angry and furious at what you're doing. That's why you should never skip this step. So, how to test my dog's temperament towards nail clipping? Follow these steps: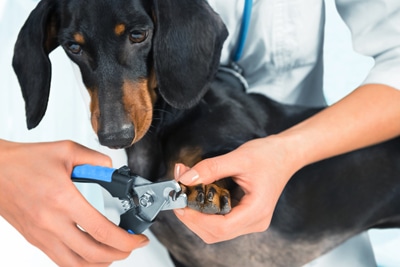 Grab some treats, then go and touch your dogs' toes for one second. If he didn't show any signs of anxiety or aggression, give him a treat for being a good boy.
Start holding your dogs' toes for 2-4 seconds and see his expression and give him treats if he doesn't show any signs of anxiety or aggression. I recommend repeating this step at least five times.
Hold a pencil or a pen or any stick and touch your dogs' paw slightly than give him a treat. I recommend repeating this step 8-10 times.
Grab your Nail Clipper and start touching your dog's toes with it for a second, however, don't make your gestures very fast (You don't want him to think that this is a toy), then give him a treat and repeat this step for a couple of times.
Start opening your Nail Clipper around the paw of your dog and give him treats. Repeat this step too for a couple of times.
Now start opening the nail clipper while holding the dog's toe for 2-3 seconds and give him treats.
If your dog doesn't show any sign of aggression or anxiety while testing him, then jump right into the clipping section. However, if he started to growl or bark at you for doing this. You have to stop and don't trim your dog's nails now. Take a step back and start addressing the behavior slowly.
For example, if at step 3, your dog barks at the pencil, then don't try to force him to like it. Instead, you should wait until he calms down, grab the pen and start to put it in the air, then give him a treat. Then decrease the distance between him and the pencil and reward him consistently until he agrees to be touched by the pen. Then you can continue with the rest of the steps.
Tips For Having Your Dog's Nails Trimmed
While the above steps shall make your dog ready to have his nails trimmed, I would like to give you some tips that I personally follow to ease the process a little bit.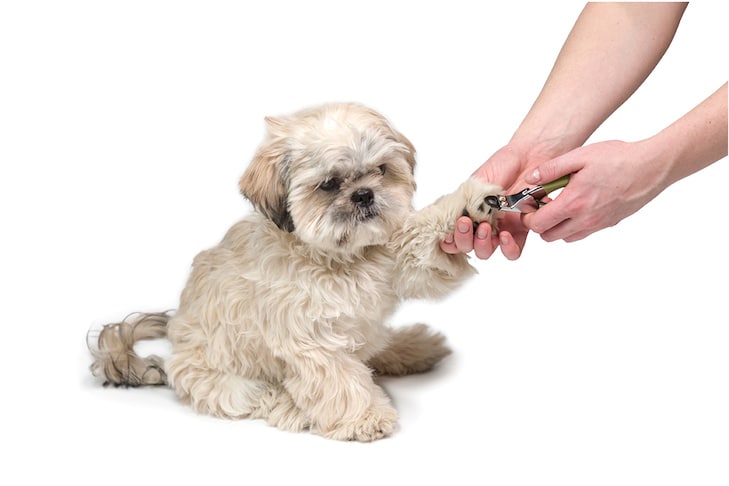 Never trim your dogs' nails while he is asleep: A lot of people wait for their dog to sleep and then go and surprise him. While this can work, in many cases, dogs will wake up, and if they don't like getting trimmed and you surprised them, you will face the most hyper dogs ever.
Trim after tiring your dog: I always wait until my dog is walked or exercised well and use that in my favor. When she is tired, I will grab the nail clipper and start trimming her nails, and she won't have enough energy to resist or to play with me instead of cutting.
Those two tips above will really help you if you are having a very hyper dog like me.

Now, is your dog ready to be trimmed? Let's start!
How To Use a Nail Clipper For Dogs?
The following steps are going to tell you how to trim your dog (assuming that you have done the above steps and that your dog is ready..):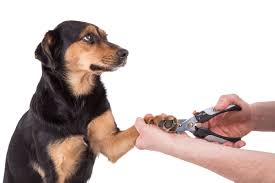 You will grab the nail clipper and hold it at a slight angle. Never use it in a straight angle because the dog's nails are curvy. At first, you will take tiny trims of about 1 to 2 mm. Until you start to see some red color under the nail. At that point, you have to stop trimming, because that's a vein and if you cut it accidentally, your dog won't stop bleeding easily. That vein is called a quick.
Repeat this step with each trim until you reach the quick.
Smooth your dog's nails with an emery board after you finish.
If you do by accident cut the quick, you can use corn starch to stop the bleeding with pressing on your dog's toe. However, in these cases, I prefer to call a veterinarian as not everyone will be able to treat his dog himself.

Now let's see some nail clippers that I do recommend to you.
Buying a Nail Clipper
In this list, we have gathered some of the best products on the market for your little pet. They are cheap and yet very handy, and we are sure they are of high quality.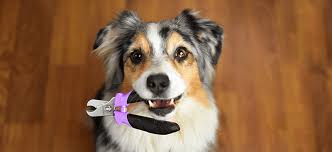 Conclusion
Trimming your dog's nails require patience and training your dog. It will be straightforward once you teach your dog how to stay calm while you get his nails trimmed. You may think that it is hard at first. However, it will get easier over time.
Have you read our latest post about Dog backpacks? I think they will become convenient if you taught them how to get into it. Stay tuned for our next articles; we are having a list of great articles this week that we are working hard on!
Have a nice day!