"WHERE THERE IS NO IMAGINATION, THERE IS NO HORROR"

– ARTHUR CONAN DOYLE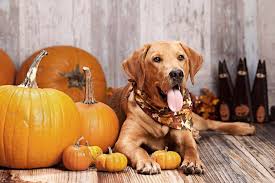 Halloween is knocking on our doors. An event we wait patiently for every year. We express our beautiful costumes, and have one of the scariest, most adventurous, and funniest nights ever! While everyone is preparing his/her costumes right now, we can't forget our furry friends who need to join us on this beautiful night. We thought -based on the suggestion of one of our fans- to ease the finding process of Halloween costumes for dogs. We provide this tiny guide to find a beautiful outfit for your furry friend.
"Spending Halloween with your furry friend will be one of the most exciting things ever. However, you really have to take care to make this night comfortable for you both. And that includes choosing the best outfit that never stresses your dog or makes him feel itchy. Also, to make sure that your dog is OK to wear clothes and not to feel uncomfortable. Also, choosing the fabric of your dog's outfit is pretty important."
Teaching Your Dog to Wear Clothes
Before choosing the outfit for your dog, you have to make sure that your dog is OK wearing clothes. Many dogs will struggle to accept that at first because they are not used to wearing clothes. However, I will give you a quick overview of how to train your dog to wear clothes following those steps:
Start by wearing a simple T-shirt or something that doesn't cover his whole body. Make sure that the fabric isn't itchy, also make sure that the T-shirt is large enough, to not make him stressed.
You will notice that he will try to rip off the T-shirt, you have to walk with him immediately after you dress him to make him forget that he is wearing the T-Shirt. Also, treating him regularly will help a lot.
Whenever you are not with him, don't leave the T-shirt on (at the beginning) so that he won't use this chance to get rid off the T-shirt.
Repeat the above steps while increasing the duration of his wearing regularly.
Start to leave him alone with the T-Shirt slowly and reward him if you found that he didn't harm the T-Shirt.
Start putting heavier clothes (Please avoid this step if we are in summer).
Voila!
After that, you will have a dog who is ready to be the scariest and funniest dog in the Halloween
Best Fabrics For Dog Clothes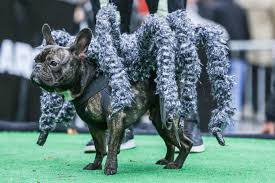 While this may not concern you a lot if you are buying a ready-made costume for your dog. However, you have to make sure that the fabric (material) won't do any harm to your dog. Especially if you are willing to let him wear it for a long time.
Generally, any fabric material that doesn't stretch and thus, will affect the mobility of your dog is really not worth at all. That's why it is always advisable to buy clothes made of cotton and spandex.
However, there are many other fabrics available for dogs, too, like wool. But, we have a problem with wool that we need to address.
Sometimes real wool can feel itchy, and you will most likely need to hand wash it rather than throwing it in with your regular laundry. To avoid this problem, choose a synthetic fabric or a mixture of cotton and washable wool. Also, a mesh can be a good option for ultimate comfort as it is a thinner fabric.
You can read more about everything relating to dog clothes here.
Choosing The Best Outfit For Your Dog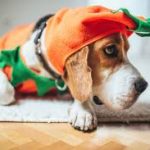 You are free to choose any outfit for your dog on this special day. However, make sure that the size of the outfit won't be so small that your dog won't be able to move. This can really cause lots of problems.
t's best to avoid outfits that cover the whole body from the toes to the neck. These outfits can cause temperature-increase problems. Remember, you want to have fun with your dog on this special day, and not have to visit the vet.
Please, make sure that your dog's skin isn't sensitive to any fabrics, especially with long double-coat dogs like Golden Retriever. Also, make sure that the chosen outfit isn't heavy on his back.
How to make sure that the Halloween Outfit suits your dog?
Whenever you buy an outfit for your dog, please make sure that it suits him well and that he is not stressed following those steps: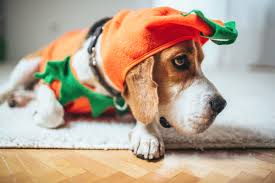 Leave the dog wearing the outfit for 1 hour. If he is stressed, you will see that he is trying to rip off the clothes. If he made those signs, please remove the clothes from your dog.
If the clothes are too small for your dog, he will probably not be able to run, so it is best to choose a larger size.
If your dog started to scratch himself excessively, you have to choose another material for your dog as he may not be tolerant of this material.
If he started to show aggressive signs like excessive barking, then it's probably best to remove the clothes immediately.
Also, make sure that your dog has a place to breathe some air well.
If your dog doesn't show any sign of aggression, then you are ready to attend the best Halloween ever together!
Best Places to Buy Halloween Costumes From
While there are many places to buy Halloween costumes for your dog, we chose one of the most reputable, which is:
Chewy
Chewy offers a beautiful range of products (not only costumes) and a huge collection of beautiful Halloween costume, but we have chosen the most beautiful ones (based on our personal point of view:
There are many more companies that we can't mention all of them. However, Petco is a really great company that offers a wide range of products too. You will also find a lot of products on Amazon as well.
Conclusion
Spending Halloween with your furry friend will be one of the most exciting things ever. However, you really have to take care to make this night comfortable for you both. We have covered some training tips and tips for choosing the best outfit for your dog that ensures that he looks handsome, as well as he is comfortable and not stressed.
We would like to thank our fan who suggested to write this blog! and stay tuned for more exciting blogs to come 
However, have you ever wondered how to trim your dog's nails yourself? You can do it easily if you follow this excellent guide that we have shared!